Name:
~Serenity Grace Jones
Age:
~19
Height:
~5"2' -She's one of those people that appears taller than she really is.
Weight:
~114lbs
Species:
~Half Rekushian/ Half Human
Powers:
~Ice resistance, formation, and manipulation. She has the ability to form large icy angel wings; each about 6 foot from shoulder blade to wing tip.
Appearance:
~Serenity has long almost wavy tendrils of long white-grey hair, two short and stout braids jut from either side, her bangs are uneven and strands flip out randomly from her face regardless of how much she brushes it. She has deep beautiful blue eyes that always seem distant, like her mind isn't quiet focused on any thing in particular; framed by long grey-white eyelashes, and arched full eyebrows. She has sultry rosy lips that always appear to be in a slight pout due to the way her bottom lip juts out and her whitish skin gives her an almost ghost like appearance.
She has long slim limbs, broad shoulders, broad hips, and a healthy curve to her waistline; full thighs, long legs, and narrowed feet. Her sway back curves inward a little more than normal, making her chest appear to jut out a little more than normal, and her shoulders are slumped but not to the point of appearing sloppy. She has long slim fingers with short cut nails that she keeps painting a silver blue color to contrast the white and black keys of her piano. She often wears shirts that expose her shoulders, and high wasted leggings or thigh high stockings most of the time. Her right ankle was crimpled by an incident involving her abusive father, alcohol, and a door so she often has to wear a special leg brace on her foot that comes up and wraps around her shin. Serenity prefers to walk around barefoot or in simple slip on flats because it's easier on her ankle. She has a simple black thorny outline tattoo of a heart on her left wrist and a butterfly tattoo on her right shoulder.
Image:
~
Wrist Tatt:
~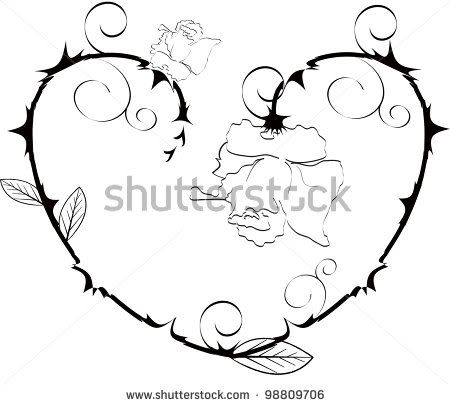 Shoulder Tatt:
~
Hobbies:
~Art like painting landscapes, and composing classical music. She can play the violin, the piano, can sing, and knows most songs on the harp. She will often read a book by candle light on nights she can't sleep, which are quiet common considering she suffers from PTSD and suffers from strong paranoia and auditory hallucinations of her father's drunken angry voice cursing her existence.
Back-story:
~Serenity was born to a catholic family, but she was born out of wedlock. Her mother was married to an abuser, and often slept around to avoid staying at home. Getting pregnant with Serenity was her mother's saving grace until she was born. Her father had stopped hitting her mother while she was pregnant because she convinced him that Serenity was his, and was a boy. Needless to say he found out he'd been lied to just as soon as Serenity was born. He was so infuriated that as soon as her mother came home from the hospital she was put right back in it for four months after being beaten inches from her life. When she was released from the hospital she ran away and was never heard from again.
Serenity on the other hand was raised by her father until she was 16. Her father had a lot of money and he sent her to a boarding school as soon as she was old enough because he couldn't stand the sight of her. This is where she learned art and music. She was given an old used violin from her music teacher at her catholic school to practice with that she kept safe from her father in the tool shed and she'd often practice it while her father was at work. Every school break however she had to go back home and was forced to endure her fathers abuse. It was during winter break, on her 16th birthday when her powers manifested in the form of ice.
Her father was in a bad mood and hard gone to the tool shed to find something to beat her with when he discovered her violin. After watching him break her most precious gift he was almost killed after the shed was turned into a blizzard and Serenity became a ward of the state while her father recovered from hypothermia. They lived in Canada and it was cold outside during her power manifestation so the state shrugged the incident off as a freak weather accident
Foster care was the best thing that ever happened to Serenity but it was short lived. After a month her father came out of the hospital and didn't speak of the incident with anyone. He began to vigorously avoid Serenity and would often bring a catholic priest over to try and convince them Serenity was possessed whenever he wasn't working, or stumbling home drunk from the bars. No one believed him, although she would often be forced to perform several tests, such as speak the holy fathers name, read passages from the holy book, and get splashed by holy water. Eventually her father began to slowly shrink more and more into madness.
Meanwhile while Serenity was 17 she began working at a local convenience store and saving up enough money to move out. She often practiced her powers by freezing water and shaping it into the form of ice in parks and woodsy areas away from home. Her 18th birthday she had a single suitcase packed with clothes and letters that her teachers and her friends wrote to her from her boarding school. Serenity had a train ticket and a set of keys to a new apartment.
She had been living in that place for almost a year when she got a notice from the state saying that her father had gone into a paranoid delusion and drove himself off a cliff. She never visited his grave site, but she did go to the funeral. It was an overcast day when she got there and there were only three other people who she had never met. One woman showed up with a strangely determined look in her eyes. She arrived not long after the burial and threw a gold band at the headstone. Walking over to Serenity she gave Serenity a letter, refusing to meet the girl's eyes and left. It took 3 months for Serenity to read the letter and when she did she realized that woman had been her mother. The letter explained her mothers life, leaving nothing out and at the end there was nothing but a contact address.
Recently:
~Serenity still lives in her small, shabby apartment, and is visited by her old land lady once or twice a week to keep her company and brings her hand me down furniture for her shabby apartment. She regularly writes her friends from her old boarding school letters and buys canvases and oil paints so that she can paint her friends pictures. She rarely sells her art unless she doesn't like the picture or it doesn't match her paintings on the walls of her apartment. She has yet to mail her mother any letters or visit her but she leaves the letter open on her dining room table. After she comes home from her job to wind down for the night she reads it and stares at the address until the words blur. She knows deep in her heart that her mother would know why she has these powers but she blames her for the life she's had to lead. At night after she's done reading the letter from her mother Serenity will then play the used, out of tune violin she bought for herself on her 19th birthday from an old pawn shop until she's ready for bed, and then she'll make herself a sandwich and a cup of tea, and go to sleep. She's trying to get as much money together as possible so that she can buy herself the beautiful piano she saw at a local music shop by her 21st birthday.
Occupation:
~Serenity works as a cashier in a local retail and clothing shop.
Her theme song:
~
http://www.youtube.com/watch?v=7uTb2IgmhRM
The XX's cover of jthunder's mix of Gorillaz's song Crystalised