Belantino Black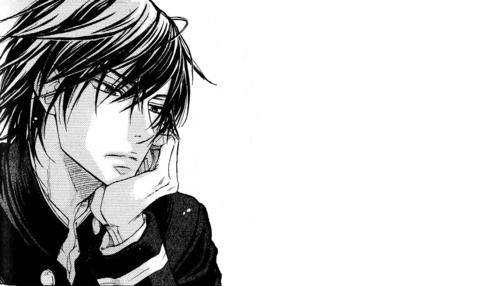 married at 40 | died at 60 | would be 170 in present day
As mentioned, Belantino was a kind and fair king who believed in equality. His own father was thought to be a direct descendant from Fai the Conqueror, which allowed them to rule over the citizens of Wiz as royals. Belantino was an only child and was raised personally by his parents who taught him what it meant to be a 'just king'. When his father passed, Belantino took the throne at the age of 35 and was married by 40. His marriage was arranged by his advisors and was absolutely terrible, considering he and Bellarose fought constantly. They both had very different views and morals and they rarely ever agreed on anything. The only time they ever got along was when their son Belzeneff was born. But even then, things turned sour as soon as Belzeneff got to the age where the could think. Where Belantino tried to teach him fairness, Bellarose taught him evil. The title of Queen had gone straight to her head, so much so that Belantino feared for his life and his son's.
Which he was right to be, considering he fell ill one night with a mysterious disease. It was so sudden and came out of nowhere that it lead many of his advisors to believe that he had been poisoned. Sadly, the spell was too strong for any of them to break and Belantino ended up passing away shortly afterwards. But, before his passing, Belantino spoke with his advisor, Demarcus, and told him to keep a watchful eye on Bellarose since Belzeneff would no doubt be her next target.
If he were alive today, not only would he be disappointed in the way Wiz has become, but also in his son Belzeneff. He had so much high hopes for him and it would break his heart if he saw what his son has become. He would also have been the cool grandpa, since he loved kids, and would have probably made Belzeneff's children's childhoods much brighter.
Bellarose
Black

married at 33 | executed at 67 | would be 168 in present day
Bellarose was evil. The epitome of evil. How she was chosen to be-wed someone as kind as Belantino is a mystery that will probably go unanswered. Whether it was her family's influence, money, power--no one knows. It's quite obvious, looking back on it, that she had poisoned her husband while her son was too young to rule so that she could become ruler. There were many who tried to
prove her guilty, but the only outcome were the executions of anyone who dared to question her. From the time she was 58-67, she ruled over Wiz.
However, the power had gone to her head and she wasn't willing to give up everything she had built to her son so soon, so she began plotting. Her plan was to exile Belzeneff to the human world and remarry shortly afterwards, bearing a new heir that would take over for her, but only when she was an old woman and unable to rule any longer. Unfortunately, Belantino's previous adviser, Demarcus, caught wind of the Queen's plans and since he never forgave her for the King's death, he told Belzeneff.
Belzeneff had her publicly executed .
On the day of the execution, it was Belzeneff himself that held the axe and before the entire Main City of Wiz, beheaded his mother. Her last words were, " So I did raise my son well! Take what I taught you and lead this world with greatness!". She was still laughing by the time Belzeneff swung the axe. Afterwards, her name became a curse, something along the lines of
bitch and whore
and no one was to speak a positive word about her or else share the same fate. Belzeneff also ordered that all of her pictures be burnt, her records be thrown away, and that everyone of her relatives be exiled to different worlds. Her followers were killed in the days following her death and from there, Belzeneff created his new kingdom.



Demarcus & Demetrios Lutece



180 years old | 138 years old
★
Demarcus was the advisor to the previous king, Belantino Black, and helped him rule during the short 25 years that he was on the throne. It's questionable whether or not he was in love with the King, but Demarcus devoted most of his life to Belantino and his son, Belzeneff. He was completely devastated over Belantino's death and swore to get revenge against Bellarose. During her nine year reign, Demarcus focused on raising and looking after Belzeneff, making sure to fulfill his last promise to Belantino and keep an eye on him. When one of his spies informed him about Bellarose's plan to exile Belzeneff, he saw it as a chance to get his revenge and told Belzeneff. It took some time, and an almost beheading, for Belzeneff to believe him, but eventually he did when Demetrios, Demarcus' son, brought him the blueprints of her plans. The rest is history.

In the present day, Demarcus enjoys retirement on an island far away from the Main City. It was given to him by Belantino as a thank you gift right before he died, so Demarcus cherishes it always. He still visits the castle sometimes, if only to bring a gift or to check up on his son. He remains a mystery to most of the castle staff, especially considering that his appearance has remained the same for the past 145 years, ever since he first appeared as Belantino's advisor. No one knows where he came from or how he even met Belantino in the first place, or even who the mother of his son is.


★
Demetrios is the advisor to the current king, Belzeneff Black, and helped him rule ever since he was crowned king. He was raised by his father and one of the first things he learnt was to love the royal family. It had always been Demarcus' intention for his offspring to serve the royal family after retiring, so it was no surprise when Demetrios became Belzeneff's advisor. He and the King are exactly ten years apart, just like Demarcus and Belantino were, so Demetrios has been looking after him for all of his life.
He even went as far as to raise the rebellious Belladon when no one else could control him. He in no way saw Belladon as a son or an apprentice, but rather like a chore to complete, which he did.